Compressed Air Controls' honesty about what customers really need to purchase is unique
Grant Lister, Norwood's Construction Equipment Sales Representative, said Compressed Air Controls' honesty was unique when they were looking for a compressed air company to supply and install compressed air equipment in their workshop.
"Their honesty of what we required, instead of what we thought we required, was the main reason we chose Compressed Air Controls," Grant said.
Grant had previously talked to another compressed air company who had "hounded" him when they saw that Norwood had moved to the new site on 2-16 El Prado Drive, Palmerston North.

Compressed Air Controls design air compressor setups as per the manufacturer's guidelines and industry best practice
Grant was impressed by Compressed Air Controls' Palmerston North Territory Manager Steve Carran clearly explaining why Compressed Air Controls follow best practice by using couplings instead of bending their AIRCOM aluminium piping. 
The straight pipe is connected with AIRCOM elbow couplings to go around corners. The other company said they would bend their piping. Steve said bending aluminium air piping would compromise the air piping's coating and integrity and may cause it to fail. Bending aluminium pipe is not best practice or industry standard.
Steve's knowledge of best practice led to Norwood purchasing an ELGi SS10 piston compressor, and AIRCOM aluminium piping and elbow couplings which we installed in their workshop.
Compressed Air Controls' air compressor setups mitigate potential issues
"Steve told us moisture in our compressed air could be a big issue," Grant said, which was why Compressed Air Controls also provided them with, and installed, an ELGi Airmate EGRD air dryer and an ELGi pre-filter.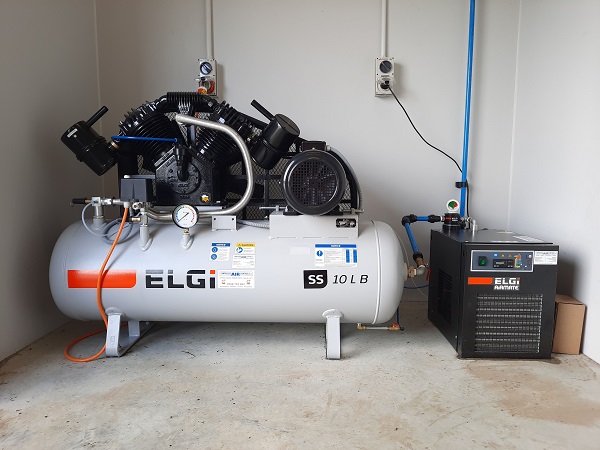 Compressed air will power Norwood's mechanics' air guns/ duster guns, oil drum pump, and impact wrench/ rattle guns when they are conducting after-sales servicing on the lawnmowers and New Holland and Kubota tractors and skid steers they sell.
Norwood moved from Tremaine Avenue (where Compressed Air Controls' head office is also located) to El Prado Drive as they needed more space for their workshop and they found it easier to move their big machinery around than when they were on busy Tremaine.
Needing air compressors, accessories, air piping systems or pneumatics and don't know what you need or need a second opinion? Contact Compressed Air Controls.