Compressed Air Controls repair, service and respond to air compressor breakdowns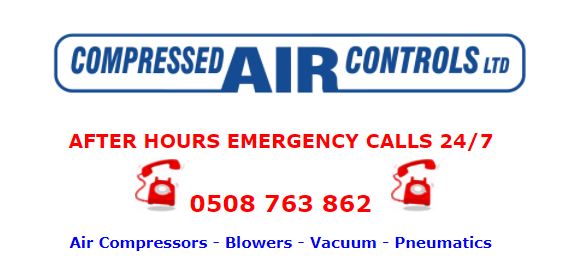 Our Service Technicians respond to air compressor breakdowns 24/7, 7 days a week
5 reasons why you shouldn't skip a service: 
Your compressor will not run as efficiently. If the compressor has blocked filters, for example, then the filter can't stop water and contaminants getting into pipework where it could contaminate your product or downstream equipment, the compressor will also waste energy fighting the pressure drops.
Skipping a service could cause damage to the compressor as belts wear out, filters become ineffective and this could cause an expensive breakdown and the loss of production.  
Regular maintenance extends the lifespan of machinery. Checking and replacing the oil and filters can prolong the lifetime of your compressor.
The warranty becomes void if your compressor is not serviced according to the manufacturer's recommendations. 
Dirty sites are dangerous. They are fire hazards as debris, like dirty leaves, can clog up your compressor and cause fires.  As part of our service, we ensure the compressor area is clean and free of debris.
Our Service Technicians have two workshops and fully equipped vehicles covering the lower North Island
We have workshops in Palmerston North, which also covers the Hawke's Bay region, and Wellington and have fully equipped vehicles to be able to service any job - be it routine services or 24/7 callouts.
This means we save our customers money as we can undertake common services/breakdowns on the spot, without having to wait for parts or equipment to arrive or make unnecessary trips back to our workshop.
Compressed Air Controls can also provide emergency air supply
Through AirHire✓ we can provide loan air compressors to lessen downtime while repairs are taking place. (We can also provide loan air compressors for short-term projects.)
ELGi's new app, that our technicians have access to, gives them a unique advantage over other Service Technicians
Our technicians have ELGi's Air-Solve app at their fingertips that could tell them how to fix a fault before they are even on-site.
That means when a customer rings with a fault light flashing, the technician can consult their app and be informed about what that means and how to fix it before they even leave the workshop.
It is a lot quicker than looking through a manual and means the technicians can be there quickly and with a more informed view of what is going wrong with your machine. 
Contact our Service Coordinators to organise a service or to respond to a breakdown or supply emergency air.
Compressed Air Controls can also provide predictive maintenance, AirCare✓, with a 

no breakdown guarantee for those with Premium or Premium Plus Cover
That means if your compressor breaks down after you have signed up for AirCare✓, we will fix it free of charge. Conditions apply. Read more about AirCare✓ and contact your Territory Manager for more information.