AirDesign✓: Design of air compressors and pneumatic automation application setups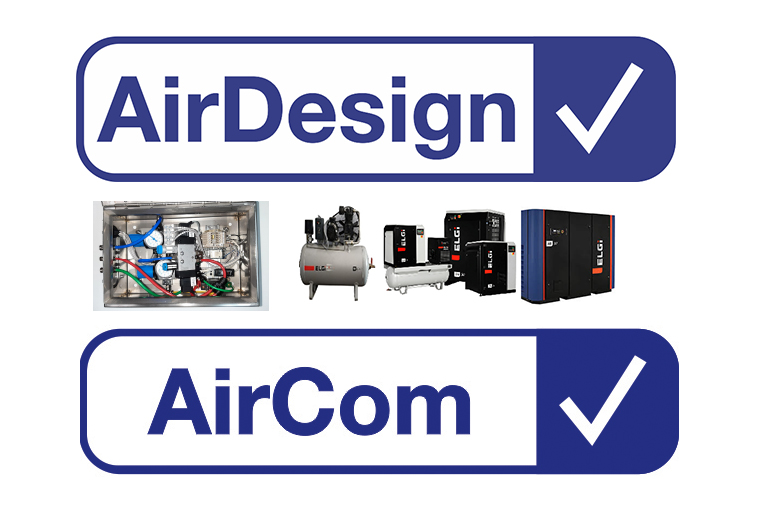 Do you want to ensure your pneumatics and air compressors are reliable?
Then contact Compressed Air Controls about AirDesign✓ to commission us to design a pneumatic automation application or air compressor setup with AirCom air piping and fittings.. (We do not supply MAC Valves in Hawke's Bay.)
Our pneumatic automation application design process:
1. We can meet you virtually for a round table discussion
You are also welcome to organise a time with us to come have a coffee or tea at our branches, or we can come to our site to have an open discussion which gives us an understanding of your requirements and business needs/design concept ideas.
During this initial consult, we will be able to give you a general indication of costs that you may incur. Here we will also let you know about our business and product offering so you are aware of all of our capabilities.
2. Site visit (if applicable) and concept brainstorm
We visit your site to see your application or what you want to be automated in action. This allows us to provide the best solution/concept options to suit your requirements, environment and equipment. Our team of experts then have a 'think tank' and come up with a concept idea or idea that should meet your requirements. We then present these with you and give an idea of the costs to get the concept built. 
3. Scope of work defined- this can be broken down and completed in cost-effective stages
If agreed, we define the scope of work which includes a more specific indication of costs, identifies roles and responsibilities in the process (including if there is an agreement with external parties such as fabricators or electricians).  Compressed Air Controls did a pneumatic upgrade for a sawmill where they replaced Norgren vales with MAC Valves month by month in cost-effective stages as they were having to re-kit the valves weekly which cost $1000 each time. The pneumatic upgrade to MAC Valves cost them $3000. This also saved them money as there was no production downtime for maintenance and no more rejected logs from failing valves.
4. Prototype developed, built and tested
We ensure that it will meet your requirements. 
5. Solution testing and integration
We install into site/application and undertake the commissioning and testing until we are happy that it has provided the outcome you are after. We project manage the build and will coordinate the other trades around it. 
If you have been wondering about automating an operation, whether it is to improve safety or to help streamline a process, get in touch with us for a no-obligation chat today. 

The benefits of automating processes:
Make life easier: Manually lubricating the chain that moves meat around the Alliance meat processing plant in Dannevirke was an awkward task for staff. Now the task does not require anything more than a push of a button, thanks to Compressed Air Controls automating the process. Compressed Air Controls installed an Oilrite automated lubrication system that has 12 outlets.
Reliability: We can make machines more reliable by upgrading the controls: this will improve their reliability and your productivity. . This is all for a fraction of the cost of a replacement machine.
Compressor breakdowns can be a sign that the system needs to be upgraded. We recently did some pneumatic automation upgrades to a power station's pneumatics using our MAC valves and Master Pneumatic filter/lubricator sets and Air Torque actuators, as the original installation had no isolation or lubrication to the pneumatic control actuator/butterfly valves. We also serviced the compressor and now we are not having any more breakdown callouts at 2 am and the customer is wrapt that he can sleep soundly again.
Production bottlenecks can be eliminated.
Making staff safe i.e. using machines instead of staff in cold areas, like freezers, which reduced repetitive strain injury.  
Have you had a process pneumatically automated by us? Leave us a review.
Contact us now to see how pneumatic automation can make your life easier.

Compressed Air Controls can design an air compressor set up in the right location with the right accessories
We also ensure:
ease of access for servicing
adequate ventilation
correct piping design
condensation waste is draining efficiently
Our air compressor and accessory setup process:
We visit your site to assess your needs by:

Reviewing your historical power consumption records, checking the load on pneumatic systems and counting the amount of equipment that needs compressed air. Such observations help determine the average airflow (CFM) and air pressure (bar) required for daily operations, the maximum possible demand and requirement during a low production phase.
Discussing your plans for future growth
Keeping this in line with your budget
Site assessments inform us on what hazardous materials to avoid locating the air compressor near 
A site visit lets us know how much space we have to work with and what hazardous materials are on-site. We will design the air compressor set up so it is not close to toxic or flammable materials or corrosive agents. When Stevensons Engineering needed to replace their air compressor, Compressed Air Controls did not install the new one in the same place, where contaminants caused the last one to fail; the Territory Manager designed a portable shed on a skid.
We follow industry best practice
It is industry best practice to protect the air compressor from the elements- if the site does not have room for the air compressor to be inside, then will we advise that a shed must be made for it.
Read more of our customer testimonials about our pneumatic and air compressor solutions.
Once we have designed the air compressor setup, we supply, install and service the air compressor, accessories and pneumatics
We supply:
We install the air compressor, accessories, air piping, and pneumatics to industry best practice
We can also service your air compressor, this could include our unique predictive maintenance schedule, AirCare✓