Air dryer helps Foodflo improve their air quality and saves them significant energy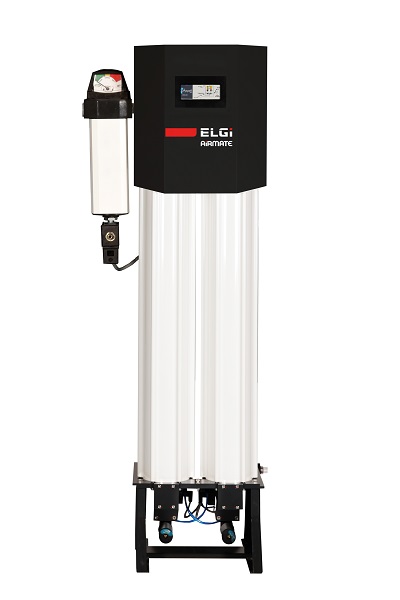 If you have cooled down with ice cream, chomped on some chocolate or savoured something savoury, some of the ingredients may be made in FoodFlo International Ltd's Pahiatua factory. Those ingredients are protected from contaminates during the production and packaging of them by an ELGi AirMate desiccant air dryer.
Unlike Foodflo's old refrigerant air dryer that was constantly breaking down, we advised that this dryer should be installed on the floor instead of 3 metres in the air which will make servicing it easier and more cost-effective. Compressed Air Controls take aspects like ease of access for cost-effective servicing into account when designing air compressor setups.
Air dryer gave FoodFlo a better class of air
FoodFlo's refrigerant dryer gave them a 3 degree dew point which meant their air was classed as 1.4.1 according to Air Quality Standard ISO 8573.1. The desiccant dryer gives them a dew point of -20 degrees which gives the luxury food manufacturer class 1.2.1 air. "It has given us amazing environmental results," FoodFlo manager Terry Cox said.
Long relationship signifies trust
Although he said he had never heard of a desiccant air dryer he was willing to trust Compressed Air Controls' sales manager Russell Crawford. "I have worked with him since 1993 or 1994 and I have a lot of time for what he has to offer."
How a purge optimiser saves FoodFlo significant energy
The purge optimiser and the dew point sensor work together to control the purge cycle so it only cycles as needed, instead of doing at set times. This can save significant amounts of energy as a purge cycle can use as much as 12CFM, depending on the size of the machine, which is lost to the atmosphere.
Benefits of a Dew Point Stretch Cycle 
The air dryer stretches the moisture loading time of the desiccant bed by increasing the drying time.
Contact Compressed Air Controls; we can assist the food and beverage industry with:
The supply of quality air compressors including truly oil-free air compressors and air treatment equipment.

The supply, design and build of pneumatic automation, including using MAC Valves in a number of products specific to the food industry, such as controlled atmosphere storage for fruit and vegetables, remote control system for clean-in-place unit, a potato peeling machine, and a multi-headed weigher.

Advice and service to ensure air quality standards and air purity are met. Routine maintenance or a predictive maintenance schedule to ensure your system is always running reliably and efficiently.
Need ingredients for your commercial food products that are vegan, halal, gluten-free, sugar-free, organic or natural? Contact Foodflo.