Pneumatic repair just business as usual, despite heavy police presence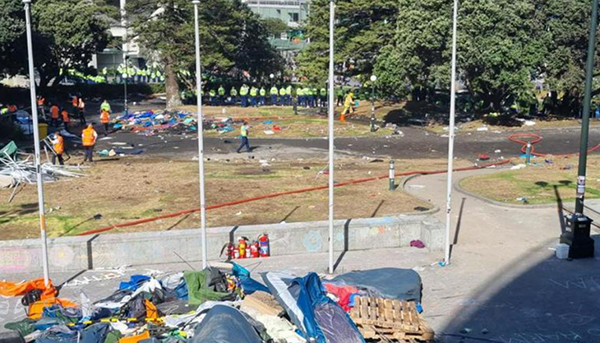 When Compressed Air Controls' Service Technicians repair pneumatics, they do not normally have a heavy police presence around them. But because the pneumatic controls of the bollards at parliament had been broken by anti-mandate protesters that was the case.
By the time Compressed Air Controls' Service Technician Orlando Cordevilla Jr had been called in, the protesters had been driven away, but the site still had a heavy police presence to ensure they did not come back. Orlando said making the repairs was business as usual but getting onto the site wasn't; "My van was checked to see if there's somebody hiding inside, police were everywhere, maybe around 100 stationed everywhere, police were also stationed near our working area, maybe around 4 or 5 that time."
He replaced the broken SMC pneumatics with ODE pneumatics and the pneumatic setup will be redesigned at a more convenient time for the customer, as the original design is not very tidy. It was urgent that the bollards were working as they prevented vehicles that do not have security clearance from going any further onto parliament grounds. 
Contact us for all your pneumatic needs from designing pneumatic setups, and upgrading, repairing and maintaining pneumatic setups