Oil-lubricated and oil-free piston/reciprocating single and two-stage industrial air compressor
Why should I purchase ELGi's single and two-stage industrial air compressors?
Robust cast iron compressor with high durability
Robust internal parts and minimum service points; high reliability
Offers low life cycle cost with no compromise on performance and air quality
Slow running speed for lesser wear and tear
Twin-sided belt guards ensure safety and meeting OSHA standards
Highly energy efficient with high-efficiency IE2 Motors
Leak proof fittings
Deep finned cylinders for efficient heat transfer
Steel cooling fan with aerodynamic profile for best-in-class flow
What industries is this air compressor suitable for?
Spraypainting and panelbeating shops
Plasma cutting
Pneumatic robots and tools
Compressed Air Controls can supply filters for air compressors and breathing air equipment 
You don't have to worry about oil from an oil-lubricated air compressor getting into your pneumatic tools or breathing air equipment as we can provide air compressor filters and breathing air equipment filters from ELGi.
Air compressors and filters can be purchased on a Capricorn account
Compressed Air Controls only Capricorn Preferred Supplier in the compressed air industry for the whole of New Zealand.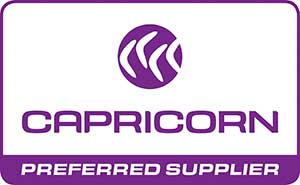 Contact Compressed Air Controls to find out more benefits of using an ELGi piston air compressor.