Pneumatic solution for Capital Precut Solutions' framing tables: refurbished with reliable and repeatable MAC Valves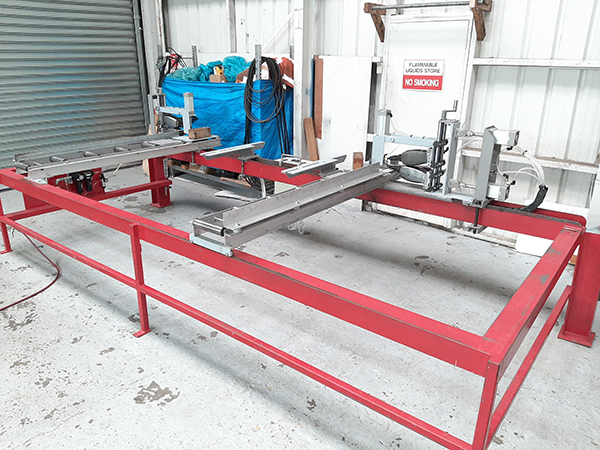 Compressed Air Controls designed a pneumatic solution for Capital Precut Solutions by refurbishing their framing tables.
Capital Precut Solutions already use Compressed Air Controls to install, service, and repair their various pneumatic machines so Compressed Air Controls' pneumatic design expert Jason Crawford was a logical person for director Jock Buckthought to sit down with and discuss their needs.
"We have a good relationship with Jason; he is pretty switched on," he said.
As part of the pneumatic design process, Jason visited the site to see how the machines are used and then created a schematic and quoted for parts that we have good amounts of stock.
The framing table, which is used to manufacture the timber roofs and floor trusses they design for residential and commercial buildings, was tired and some of the parts were hard to find replacements for.
Jason designed it so that the four framing machines can be refurbished over time with the same schematic and parts.
"We replaced the broken, secondhand valves with Mac 35 Series Lever Twist Valves," Jason said.

Why MAC Valves is one of our core suppliers
MAC Valves is a core supplier because Compressed Air Controls are all about using products that give our customers an advantage.
We have distributed MAC Valves since we started in 1990 through MAC Valves Pacific, a wholly-owned subsidiary of Mac Valves Incorporated conveniently located in Auckland.  
We stand behind MAC Valves and have been providing sales and specialist application advice and service on MAC Valves for over 30 years. 
What is the MAC Valves advantage?
The MAC Valves advantage is that they are designed and built to meet the market requirements:
Reliability

Speed

Consistency

Ease of maintenance

Repeatability 
Why Repeatability Matters     
If a valve's action can not be replicated and only produces results intermittently, your process will suffer. Valves with a high repeatability rate won't be compromised by continual operation throughout the day—whether it's constant or varying.
Compressed Air Controls have good stock

on-hand
Some industries are tough on their valves but Compressed Air Controls can repair valves overnight or replace them with valves that we have in store.
Contact Compressed Air Controls to discuss what pneumatic solutions we can provide you, although we do not supply MAC Valves in Hawke's Bay.