You get solutions, stock and advice quicker with the ELGi NZ Group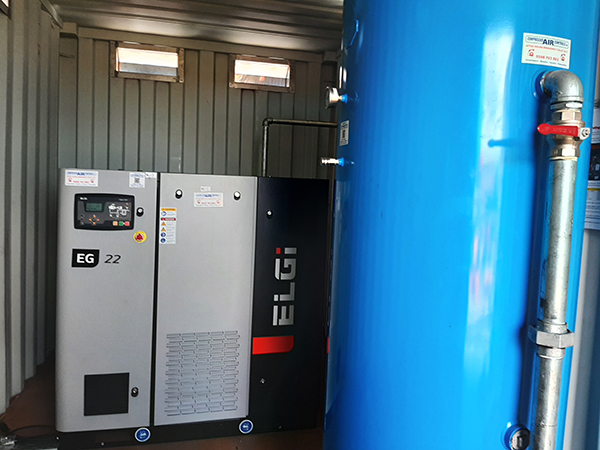 A recent installation of an air compressor by the ELGi NZ group- Compressed Air Controls Ltd and Finnco- for a company involved in the timber industry exemplifies the benefits of using the ELGi NZ group:
Industry expertise is utilised
Finnco is timber industry experts.  They supplied the company with an ELGi EG Series air compressor for their debarker.
The air compressor's Variable Frequency Drive suits the application because their air consumption fluctuates and when they are blowing down they need a lot of power, Finnco Director Jason Light said. The VFD will vary the motor speed according to the air demand, typically providing savings between 20%-30%, depending on the demand variation available in the system.
Compressed Air Controls installed it and also share knowledge with Finnco about industries ranging from small workshops to big manufacturing and processing factories.
This stops both companies from reinventing the wheel. They also utilise pneumatic manufacturers' knowledge to prevent that with pneumatic applications.
Technology improvements shared to distributors by manufacturers
All distributors are alerted by ELGi to new technology implementations through meetings and virtual staff training so we can suggest the right product solutions for you. 

You can earn Capricorn points
Compressed Air Controls is a Capricorn Preferred Supplier so both companies' Capricorn members can put items including air compressors, air dryers, air piping and Filter Regulator Lubricator kits on their Capricorn account.
You can get stock quicker
If you urgently need a product and your local company does not have it in stock, the other company will provide it if possible. This means you may not have to wait for items to be shipped in. This is not just for air compressors but includes tanks, blowers, vacuum and pneumatics. 
You get ELGi experts
Finnco, which was established in 1987, has been distributing ELGi air compressors since 2010. Compressed Air Controls, which was established in 1990, joined the ELGi NZ group in 2019 so Finnco can provide them with advice on that brand.
You get servicing expertise on a wide range of air compressor brands 
Compressed Air Controls has supplied industrial air compressors, pneumatics, blowers, and vacuum for over 30 years. They provide Finnco with advice on a wide range of air compressors brands and Klee blowers.
You get more efficient servicing and repairs 
Both companies'' Service Technicians know how to fix faults for many air compressor models, makes and brands before they are even on-site because of ELGi's Air-Solve app.
Contact Compressed Air Controls to get the benefits of two companies working for you.

You also get pneumatic products, services and advice
You get quicker turnaround 
If your application needs valves then our staff can look up MAC Valves' database of applications and possibly copy one, rather than having to do time-consuming research to find a similar solution. 
Compressed Air Controls use their time wisely. They also utilise other experts by using Tolomatic's engineers to efficiently design applications.
You can get pneumatic cylinders manufactured
Both companies can repair or supply pneumatic cylinders and Compressed Air Controls commissions Finnco to machine new cylinders for customers as needed.
Contact Compressed Air Controls to see how their pneumatic knowledge could benefit your business.