About Compressed Air Controls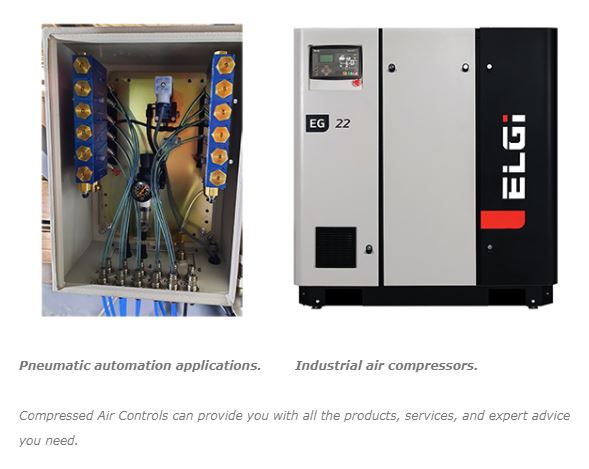 Compressed Air Controls is a kiwi owned business with over 30 years of experience in pneumatics, industrial air compressors, blowers, and vacuum.
Compressed Air Controls is a New Zealand-owned and operated business that specializes in all things compressed air, with branches in Palmerston North, Wellington, and Hawke's Bay.
We have been providing businesses like yours with expert advice, simple solutions, and quality servicing and products pertaining to pneumatics and industrial air compressors, blowers, and vacuum for over 30 years.
Our customers range from small workshops to big manufacturing and processing factories. When it comes to compressed air, you can be guaranteed that your business is in the right hands with Compressed Air Controls.
There are four main areas that make up the core of our business: 
Design: Whether you have a new concept or idea or want to upgrade or modernize a process, we will provide a pneumatic solution or air compressor setup that will meet your needs. We offer complete turnkey packages but can also design, build or test concepts to ensure your requirements are met. 
Supply: We are suppliers of the highest quality industrial air compressors, blowers, vacuum and pneumatics, and parts in the compressed air industry. We stand beside our products as they offer our customers return on investment, such as savings in energy, maintenance, longevity, and running costs.
Installation: Our experienced, qualified Service Technicians can organize all or part of an install, any time of the day. Our installations include us ensuring there is adequate ventilation, correct piping design, condensation waste is draining efficiently and pressure vessels/receivers are correctly installed and meet safety requirements.
Repairs: Our Service Technicians are fully trained and qualified to respond to breakdowns and provide after-sales servicing to any brand of compressor. Their service vehicles are fully equipped to respond to issues - be it routine services or 24/7 callouts. With AirCare✓, we can guarantee that we can prevent breakdowns; with Premium Cover and Premium Plus Cover you gain our no breakdown guarantee. Conditions apply; contact your Territory Manager.  
Why Choose Compressed Air Controls?
Locally owned and operated: We have been providing compressed air solutions and services for over 30 years.
Trained and knowledgeable staff: Our Service Technicians are fully trained to troubleshoot issues on any compressor or air system and they undertake continuous training to keep up to date with best practice.
24/7 servicing: We offer emergency service any time of the day and our service vehicles are fully stocked to help ensure issues can be responded to quickly.
Turn-key solutions: We provide simple solutions that exceed our customer's requirements.
Expert advice and support: Many of our staff have been working in the compressed air industry for a number of decades and are experts in their fields.
High-quality products: We have a comprehensive offering of quality products from the world's leading manufacturers in the compressor, pneumatic, and automation industry.
Customer satisfaction: Our customers rely on us and we don't let them down. We build strong relationships with our customers who return to us for their business requirements as we often exceed their expectations.
Parts and equipment availability: We have an extensive inventory of parts and equipment, so you can be assured parts are available when you need them.
Intuitive Customer Site Management software: Our state-of-art customer site management software provides us with extensive historical knowledge of each site and air system, including each customer's unique service history, equipment and components, and their safety requirements.
Responsibility: We consider it our responsibility to work with our customers, make recommendations based on best practice, offer advice and training to reduce the risk of unwanted surprises.
Community involvement: We support our local community every year - whether it be through sponsoring a local sports team or donating to local causes.
Call us now on freephone 0508 763 862 or email info@aircontrols.co.nz for more information on the services and products we can supply you.