ELGi Compressors and accessories
Compressed Air Controls supplies ELGi Equipments Ltd compressors and accessories.


We have everything from piston compressors (2.2 kW) to the AB series oil-free compressors (450 kW) and everything in between.
Check out the range of ELGi Equipments Ltd compressors and accessories we can supply you.

We can also provide great advice including how to choose the right piston air compressor.

We have immediate delivery options available.
ELGi AirMate Accessories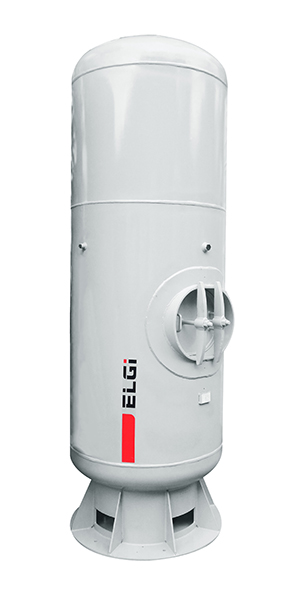 Air Receivers
The Elgi Air Receiver is engineered to handle the stress of fluctuating air demands, reduce wear and tear and increase the life of the end use equipment.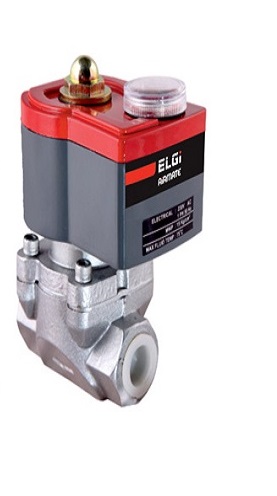 ELGi drains
Enjoy ELGi's zero loss advantage.
Compressed air condenses moisture in dryers, after-coolers and air receivers. This condensate needs to be removed frequently. This process is done by the drain valves. In ordinary drains, there is always a loss of compressed air. Most of the condensate drains have a 4 mm orifice. This 4 mm orifice bleeds about 34 cfm, which is the equivalent of 6.5 kw of power. ELGi Airmate auto drains work on the principle of zero air loss and do not bleed your compressed air, consequently saving energy.
What are the benefits of an automatic drain?
The condensate sensing type automatic drain valve is the latest advancement in drain valve technology.
Instead of operating through a cycle timer, these valves sense the condensate level for activation, ensuring absolutely no loss of compressed air and hence enormous energy saving.
These drain valves are highly efficient and reliable.
They can be fitted directly on the equipment simply by replacing the manual drains.
• The electronic level control ensures proper draining of condensate and avoids the unnecessary loss of air.
• All the functions of the valve are accurately indicated by the LED display.
• Test switch (or) manual drain allows you to conduct a function test at any time.
• Intelligent Controller detects valve, probe failure and acts accordingly.
• Noise-free, as air is not discharged.
ELGi dryers
ELGi Equipments Ltd's refrigerant and desiccant dryers and filtration can make technically oil-free air.
ISO 8573-1 2010 down to Class 1.1.1.
How do compressed air dryers work?
EGRD Refrigerant dryer
The hot high-pressure refrigerant enters into the condenser in a gaseous state and gets cooled through the forced circulation of cold air using a fan and flows to the expansion valve in a liquid state.
It is reliable and eco-friendly, it is great for demanding applications and uses ozone-friendly R 134 A and R 407 C refrigerants for minimal impact on the environment.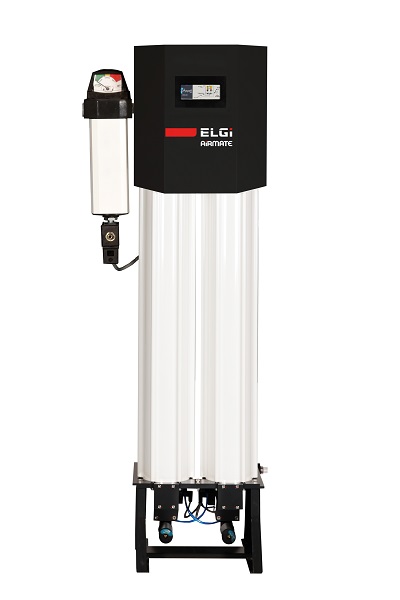 Desiccant dryer
This granular desiccant bed in the first tower absorbs moisture from the air. The second tower takes the dry purge air from the outlet of tower one and feeds it through a purge valve to regenerate the granular desiccant bed. 
As a default, all HLD models above 5X are provided with a Dew Point Stretch Cycle and Purge Optimizer.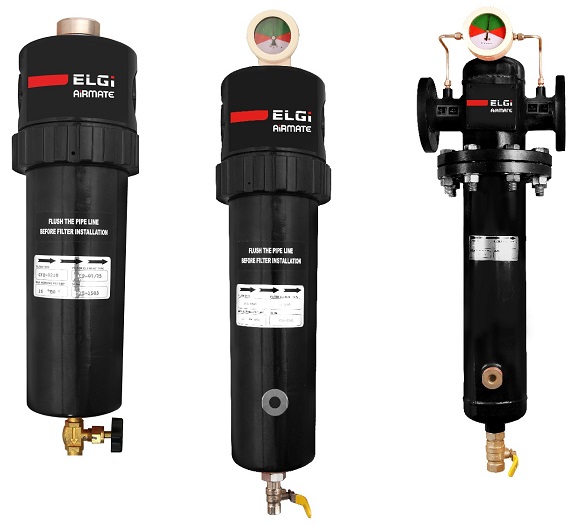 AirMate Filters
The Alocrom aluminium treatment is a special feature of all ELGi Airmate die-cast filter housings. This treatment ensures there is no corrosion and no carryover of corroded particles into the airline, which can otherwise cause blockades in sophisticated parts. 
TYPE PF
High-efficiency General Purpose Protection.
For the removal of particles down to 1 micron including coalesced liquid water and oil, providing a maximum remaining oil aerosol content 3 of 0.5 mg/m @ 21ºC
TYPE FF
High-Efficiency Oil Removal Filtration.
For the removal of particles down to 0.01 micron including water and oil aerosols, providing a maximum remaining oil aerosol content of 0.01 mg/m @ 21ºC. (Precede type FF with type PF)
TYPE CF
Activated Carbon Filtration.
For the removal of oil vapour and hydrocarbon odour giving a maximum remaining oil content 3 of <0.003 mg/m (<0.003 ppm) (excluding methane) @ 21ºC. (Precede type CF with type FF & PF)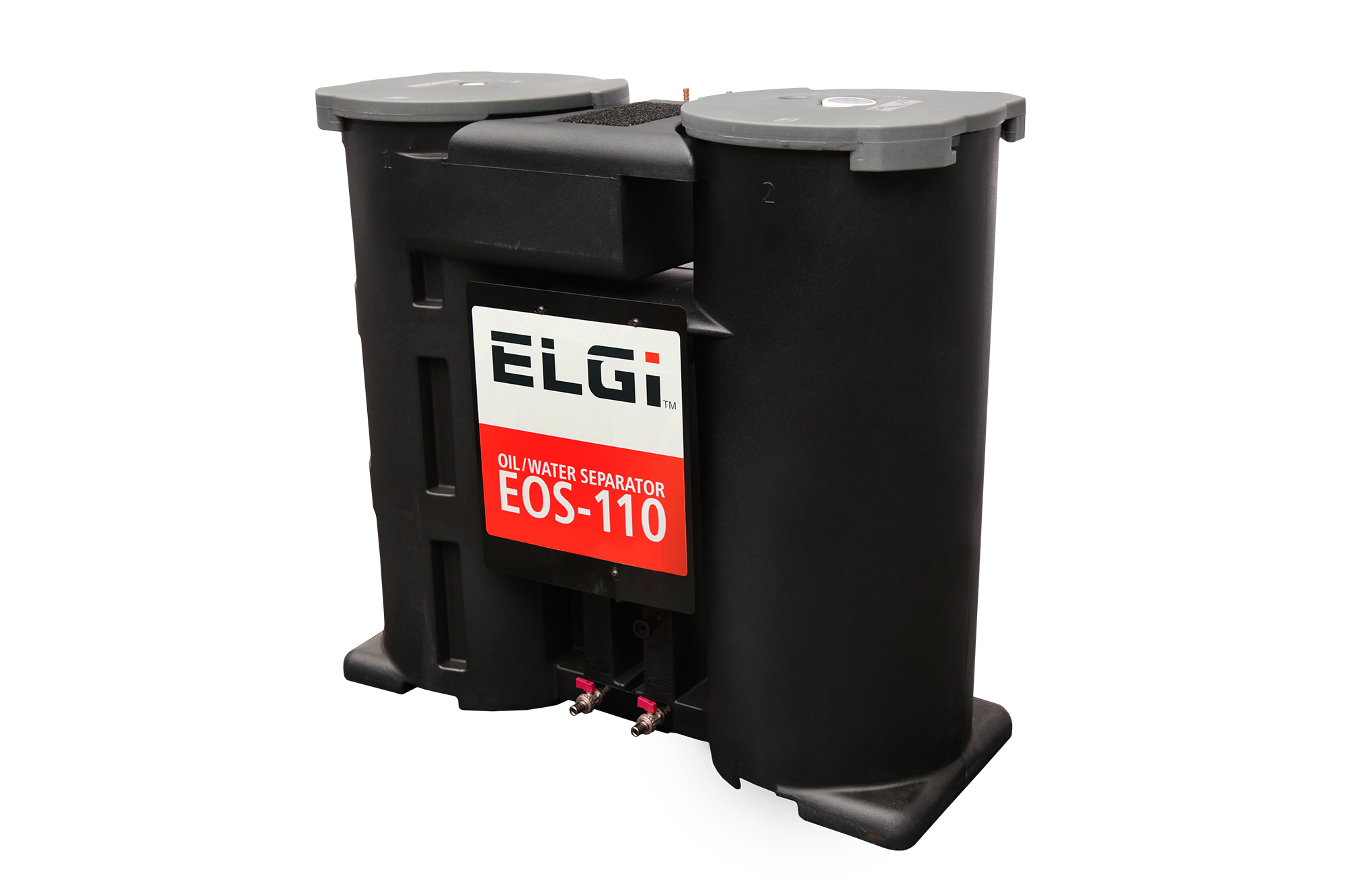 Oil - Water Seperator
When the air is compressed through the air compressor, it results in condensate, a mix of water, oil and dust particles, along with compressed air. If not treated properly this condensate can have detrimental effects on the environment. Regulatory bodies for effluent treatment recommend that this condensate should be cleansed before releasing it to the sewage disposal. ELGi EOS series is specifically designed to maintain less than 10ppm of oil in the condensate before allowing the fluid to pass on to the environment. The multi-level separation process, of super-efficient fibre adsorbent and activated carbon,  ensures the contaminant levels are kept well within the statutory requirements.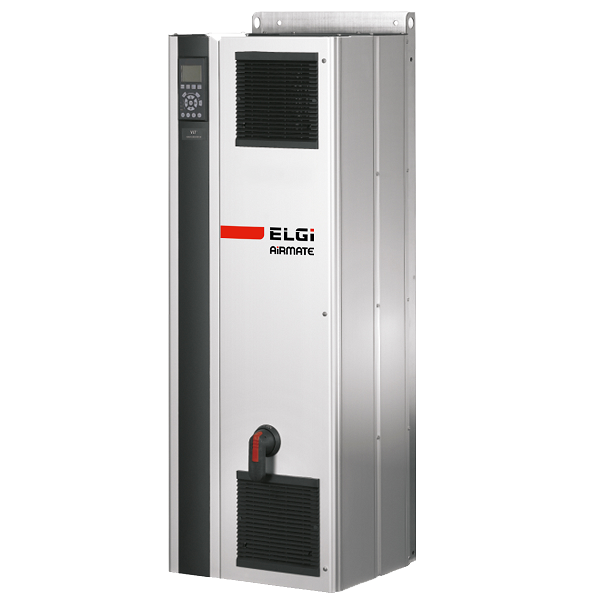 Variable Frequency Drives (VFD/VSD)
ELGI Conserve VFD matches output with demand by varying the motor speed and the power consumption reduces in line with the reduction in demand. This eliminates the frequent load-unload cycle which wastes power. A fixed speed compressor operates on a load-unload band of at least 10 psi around the working pressure, whereas with an ELGI VFD, the compressor can be operated within a band of 2 psi. Since compressors are not operated under higher than working pressure requirements, there is substantial energy saving. For every 2 psi reduction in operating pressure, there is 1% power saving.
In a fixed speed compressor with a Star-Delta starter, starting current is as high as three times the full load current (FLC). With ELGi VFD starting, starting current is equal to the full load current (FLC). This helps to avoid using heavy rated components like fuses, MCCB, cable size, generator rating, isolators etc.
For compressed air systems with fluctuating demand pattern, the return on investment due to power saving will be less than 12 months.
Read more by downloading the ELGi air accessories brochure here.